JACK & HADLEIGH
Creative team – Host Sydney
WE MET WITH THE FUNNY CREATIVE DUO WHO PEOPLE ARE TAKING VERY SERIOUSLY.
WE SHOW UP TO A WIDE EYED JACK AND A SMILING HADLEIGH IN THE HOST RECEPTION WHILST ON LOOKING STAFF WERE WONDERING WHO THEY WERE LET ALONE US. THE BOYS HAVE ONLY BEEN AT HOST A SHORT TIME HAVING PREVIOUSLY BEEN AT BBDO SYDNEY WORKING ON NOTABLE CAMPAIGNS SUCH AS 'THE PEPPER CRACKER' FOR DOLMIO AND MINI'S 'CARMONICA' AND MANY MORE THAT WENT ON TO WIN INTERNATIONAL HONOURS. 
SINCE FIRST LOCKING EYES ON EACH OTHER AT A CHRISTMAS PARTY IN 2012, THEY HAVE BEEN INSEPARABLE. THE BABY FACED ASSASSINS, FUTURE AIMS ARE TO KEEP HAVING FUN, IMPROVE THEIR DRINKING SKILLS AND TABLE TENNIS ABILITIES… AND TO WIN EVEN MORE AWARDS.
Introduce yourselves please gents
Hadleigh (to the camera man) Shall we look at him?
Jack Do we have to?
Jack Ok, my name is Jack (right), I'm the Art Director here at Host? My role entails coming up with ideas, creative ideas hopefully.
Hadleigh I'm Hadleigh, I'm the Copywriter, my job is to come up with nice phrases and words. I try and be funny sometimes.
How did you get the gig at Host?
Hadleigh We got this dodgy text from Paddy, he'd somehow tracked us down via a few mutual friends. Clearly done his homework on us.
Jack Didn't know who he was. We though it was a Catfish (Laughs).
Hadleigh He said, hay you guys, bla bla, love you, love you, your books out of this world best we've ever seen, keen to chat etc. So we thought, why not. Started texting and had quite a long texting relationship with one an other. Eventually spoke and he clearly knew his stuff, people in the industry etc so we were quickly sold on him.
"problem at the start was we both wanted to be copywriters"
How much did you know about Scout prior to this?
Hadleigh Never heard of them. We'd been chatting to other recruiters, but honestly we liked working with Scout. I joke about the texting but it met our needs. They didn't harass us, they were polite and easy going.
What was the aftercare like?
Jack Great. Paddy took us to the local pub for beers and lunch, even made us pay for a round I believe. At one point I think we got invited back to the Scout office for ping pong.
Hadleigh yeah yeah, forgot about that….we didn't go. We said we were busy but went back to the pub when he left.
Interviewer – Sounds like you were scared.
Jack We'd have smashed him but it was nice to be invited.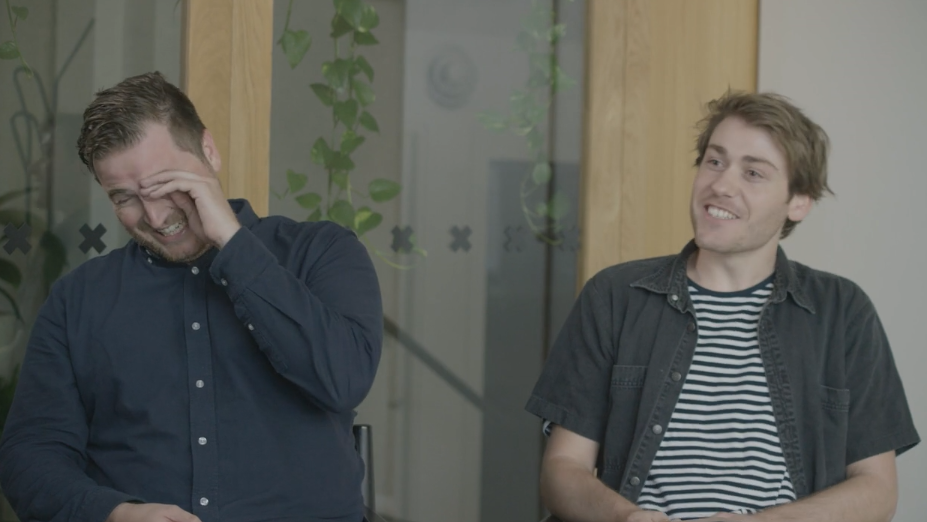 How important is honesty and clarity?
Hadleigh Massively so. If they sell you a lie then you'll just be pissed off and not trust them again. It's not great for the agency either. There was transparency, honesty in the team dynamics, about the role, clients etc, how we'd fit in etc. We were very clear when accepting, made it easier in fact.
Where did you boys meet?
Jack Ad School in Auckland 5 years ago. Seems like many moons ago now but we did actually go our separate ways at first. Problem at the start was we both wanted to be copywriters and I eventually became an Art Direction.
Hadleigh Our partners didn't work out so decided to give it a crack at Mojo. The rest is history.
Who's the laziest?
Hadleigh Depends on the day of the week. Mondays, Tuesdays and Wednesday are pretty slow for us, Thursday and Friday are slightly more productive. Weekends are probably best for us.
Jack Ideas don't come when you're stressed though. Best to go the pub and relax. Best time to think. That's what we tell our bosses anyway.
Best idea you've ever come up with?
Jack We had a great idea for a cricket bat that scores itself we both really liked. 'Howzat bat' it was called. It would score you on how hard you hit the ball and where about on the bat you hit the ball. We've flogged it to so many clients.
Hadleigh Unsuccessfully too. You think you're geniuses and then your boss calls you a dick.
15 beers, who's standing at the end?
Hadleigh None of us really, we're both terrible. We'll probably end up jumping into hedges or something.
Jack I prefer climbing scaffold.
Thanks gents.